two rows and two columns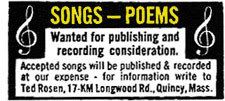 Whether you were an oddball who took sketchy magazine advertisements seriously, a shady recording industry misfit, or a cynical freak who liked to test boundaries, then you may have found yourself within the mystical realm of the song poem, especially if you came of age in the 1970s. I'm not going to go into the entire history of this incredible fringe genre of American pop music. You can learn all of that
here
. I would like to suggest that you visit
WFMU's Blog
to hear some samples. I especially like
this one .
Well, folks, here at the Surreal O'Rama we're trying to bring the 70s back by hosting our own song poem contest. You supply the lyrics, we'll take care of the rest.
Email your submission now!!!
(billysugarfixATgmailDOTcom)
Follow This Link
to find other wonderful pages about song poems.
The following is John Trubee's "Peace and Love (a blind man's penis)", possibly the most famous song poem in the galaxy!