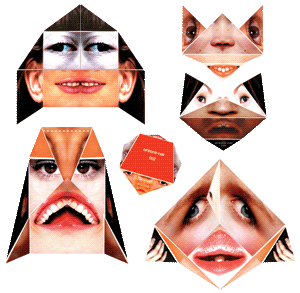 The
Brooklyn 5 and 10
gives you the chance to see the pulp of trees form into Mexican Pecking Chickens or flying pigs. You can also grow gardens from eggs or plant magic matches to grow wildflowers or herbs.
My favorite from their prodigious parade of products is
Strange Faces Origami
(pictured above) which allows you to create a whole cadre of macabre characters. I must warn you that they might grow up and become monsters of the same magnitude as
Batman's Folded Foe, the Paper Man.
But, more likely they will just become
Strippers
.
I'll trust your judgement on this matter, because you, my dear readers, are coruscating clusters of class and culture.
The URL is:
brooklyn5and10.com