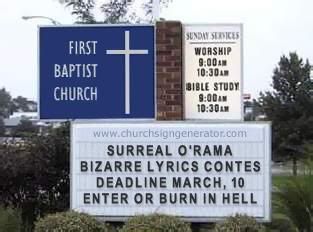 Oh what perfect perilous parralelism. Today, March 9, is recognized officially as
Panic Day
, and as you ALL KNOW tomorrow is the deadline for submissions to the Surreal O'Rama Song Poem Bizarre Lyrics Contest!!!!
CLICK HERE TO SUBMIT YOUR LYRICS
(billysugarfixATgmailDOTcom)
Simply EVERYONE is talking about it. Here's a swell article in The Independent Weekly's blog
SCAN!
We got the front page in last Wednesday's
Daily Tarheel.
And in short the entire internet is abuzz with chatter of our eccentric balladry. Just LOOK at all of this;
Carrboro Commons!!!
,
Mann's World
,
Orange Chat
,
Atomic Books
, and
Carrboro.com
!!!!
So, if you haven't submitted, do it soon! The balance of the hour glass is not on your side, but you are a gleaming cluster of wonder, and I have boundless bundles of faith in your abilities.