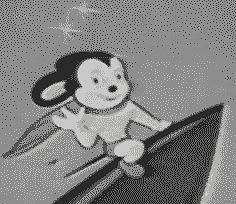 Oh no, it's not just something that moves a cursor and clicks. Not any more. The object beneath your hand is a tool of unknown possibilities, but there are some people who are exploring the exciting new medium of mouse manipulation. Here are a few examples.
Use your mouse to
make your own Jackson Pollock -esque Picture
Here's
a similar more fluid design maker
by
Mr. Paul Neave
With the Line To Experimental by Volcanic Penguin you can
make a virtual Spyro-graph design!
This lil thing called Grappa-Blue Random is
like an etch-a-sketch for the new millenium
And finally there is
Jason Nelson's Undirection
it would take a while to describe, so I would recommend that you just
Click here to begin your journey
If you know of any fun,colorful or just plain weird, mouse manipulation sites
Send me an email
or leave a comment on the blog. I'd loooooooooove to know about them!